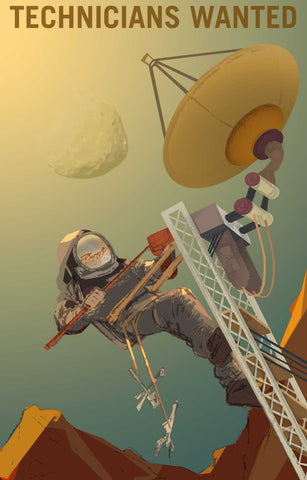 Poster: NASA Mars Recruitment - Technicians Wanted (11"x17")
Mars needs YOU! In the future, Mars will need all kinds of explorers, farmers, surveyors, teachers . . . but most of all YOU! Join us on the Journey to Mars as we explore with robots and send humans there one day. 
People with special talents will always be in demand for our Journey To Mars. Whether repairing an antenna in the extreme environment of Mars, or setting up an outpost on the moon Phobos, having the skills and desire to dare mighty things is all you need.
A great poster from your friends at NASA.
Ships fast. 11x17 inches.
Planning a vacation among the stars? Check out the rest of our great selection of NASA posters!
Need Poster Mounts..?
---
You Might Also Like This
---