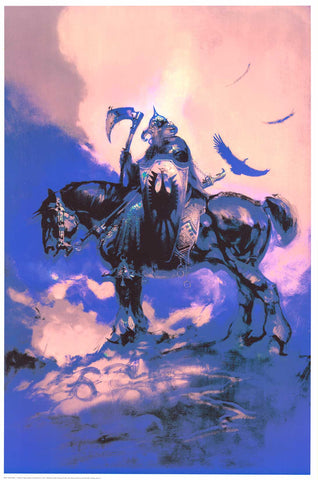 Poster: Frank Frazetta - Death Dealer Blacklight (24x36)
A fantastic poster of fantasy art from the legendary Frank Frazetta - the Death Dealer!
This is a non-flock blacklight poster.
Fully licensed. Ships fast. 24x36 inches.
Frank Frazetta was an American fantasy and science fiction artist, noted for comic books, paperback book covers, paintings, posters, LP record album covers and other media. He was the subject of a 2003 documentary.  Frazetta was inducted into the comic book industry's Will Eisner Comic Book Hall of Fame in 1995 and the Jack Kirby Hall of Fame in 1999.

Death Dealer is an iconic 1973 fantasy painting by Frank Frazetta. It depicts a menacing armor-clad warrior with a horned helmet, whose facial features are obscured by shadow, atop a horse, holding a bloody axe and shield.
Check out the rest of our amazing selection of Frank Frazetta posters!
Need Poster Mounts..?
suB465
---
You Might Also Like This
---