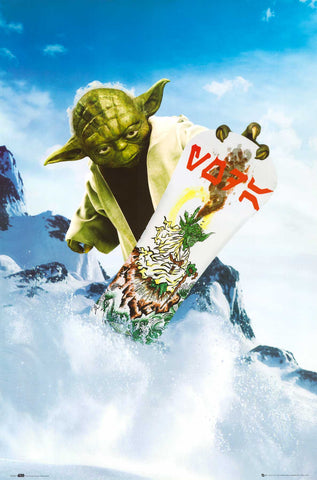 Star Wars: Yoda Snowboarding Poster 24x36
Are you a Star Wars fan looking for a unique way to display your love for the franchise? Look no further than the Star Wars Yoda Snowboarding poster!

This vibrant and action-packed poster features an image of the beloved Jedi Master, Yoda, hitting the slopes on a snowboard. The stunning artwork captures the essence of Yoda's wise and powerful character, while also showcasing his adventurous spirit.

Measuring 24"x36" inches, this high-quality poster is the perfect size to hang in your room, office, or anywhere you want to add a touch of Star Wars magic. The poster is printed on durable, high-quality paper, ensuring that it will last for years to come without fading.

Whether you're a snowboarding enthusiast, a Star Wars collector, or simply a fan of Yoda and his iconic quotes, this poster is sure to delight. Its unique and eye-catching design is sure to spark conversation and bring a smile to the faces of all who see it.

So why wait? Add the Star Wars Yoda Snowboarding poster to your collection today and bring a little bit of the Force into your daily life!

Be a good Jedi and check out the rest of our amazing selection of Star Wars posters!
Need Poster Mounts..?
pw50720
---
You Might Also Like This
---