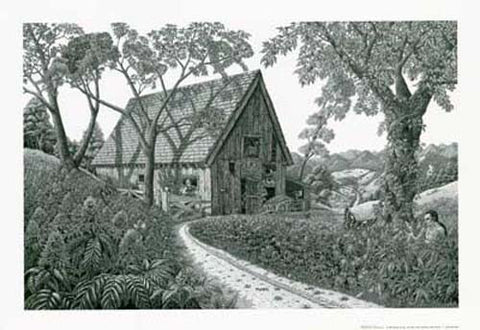 Field of Dreams Tom Masse Art Poster 22x32
A great poster of art by Tom Masse - Field of Dreams! Loaded with whimsical beasts and supernatural beings hidden among the "weeds". Fully licensed. Ships fast. 22x32 inches.
Growing up in the small, Appalachian town of Dublin, Virginia, Tom remembers always having some drawing utensil and paper in hand, trying to duplicate on paper everything he saw. His parents, who have always encouraged his talents and interests, paid for art lessons at the age of ten, where he recalls sketching with pencil and pastel the surrounding lakes and mountain-scapes. He continued with art classes through high school, where as a teenager he won a national competition and scholarship in Anaheim, California for painting and sculpture. His interest in fictional and historical literature soon turned into an obsession with fantasy art and films. He started collecting everything he could find on visionary themes, from science fiction magazines to graphic books on mythology and ancient history. After high school, deciding that his true passion lied in art, he passed up all other opportunities and pursued his goal, enrolling into the art program at Virginia Commonwealth University in Richmond.

At the university level it was soon revealed to him how little he actually knew about art. Besides the formal elements of compositional design, he discovered numerous ways to see and interpret his insight; that an emotional response can be evoked just by the use of line, shape, or color. He then delved into a boundless universe of art history, fascinated by the entire evolution of art, from cave paintings to the post modern era; how each discovery and idea is eternally built upon and added to the next step. Particularly in the modern age, when art evolved beyond the visual to the psychological, he was captivated by the Surrealist of the early 20th century. A movement attracting artist from the turbulent mood of the Dada era and the World Wars, Surrealism used imagery from the subconscious mind to conjure spiritual and emotional responses, while still using traditional, realistic methods. From the desolate cityscapes of Georgio de Chirico, the exotic figures of Rene Magritte and Max Ernst and the dream-inspired illusions of Salvador Dali, Surrealism merged into his personal style. In studying the art of film-making, he was intrigued with the combination of sound and image and how kinetic pictures are connected together in order to compose a story. Film has also profoundly affected his art in not only borrowing imagery for viewers to identify with, but in the narrative display and theatrical settings in which he places his characters. In 1991 he earned a B.A. in Illustration and Cinematography and Minors in Art History.

After graduating, he worked as a freelance illustrator along with other odd jobs for a number of years. In 2000 he moved back to the South picking up a number of skills over the past few years, including faux finishing and art restoration, in which he found his illustrative ability ideal for inpainting. He currently lives in a small town outside of Asheville, North Carolina, where he continues to create elaborate art and expand his business.
Check out the rest of our great selection of Tom Masse posters!
Need Poster Mounts..?
sca17cz suM702
---
You Might Also Like This
---